Again, I am heartbroken. So many members have passed away in the recent past, it's very sad, and I truly miss them all. Most recently for us is the passing of Max Erlacher, a man with incredible skills as a master glass engraver. I have had so much admiration for him from the first time I saw his art.
My old Carder Steuben Club friend, Lon Knickerbocker, and I were talking one evening years ago at a Symposium, and he was the person who first informed me about Max and Kitty Erlacher. I am forever grateful that he informed me about these two wonderful people. I went into Kitty's shop that year and saw my first piece of Max's incredible artistic skills and his detail-oriented workmanship in the piece that I fell in love with and had to go home with that year – the magnum engraved American Eagle paperweight. This started my love affair with Max's work, and my subsequent acquisition of more pieces of his art. To watch in person or on the internet, and see what incredible skill, precision, and patience, executed on every piece he worked on, is a truly amazing insight into an artist's love for his craft.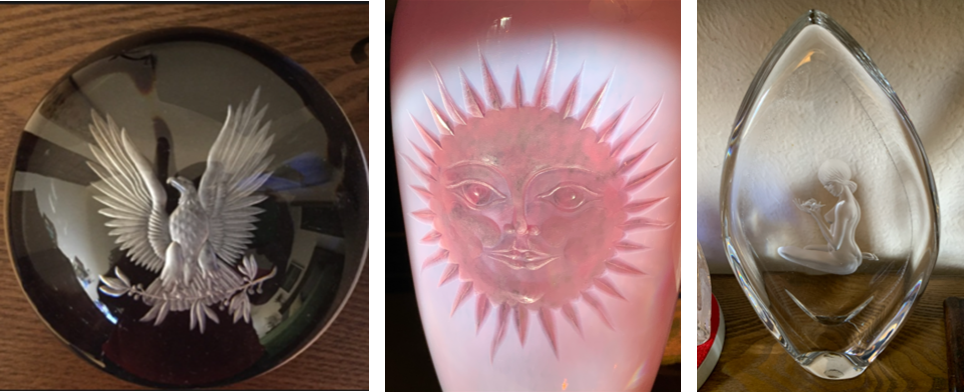 When I met Max in person for the first time, I was taken with him being quiet, humble, kind, and just a damn nice guy! He seemed to really enjoy partaking in conversations regarding glass and his craft. There were many aspects to the man, but I'm just relaying some of my personal glass experiences with Max.
Over the last decade, I obtained other pieces, and commissioned three pieces from him in the last two years. The opal over rose cintra vase that Max deeply engraved with a Sun face motif and dedication to my late parents engraved on the base, will become a family heirloom. The other two commissioned pieces were done on discs of art glass created by Max's friend and fellow glass master, Charles Lotton.
I feel so incredibly honored to be the current curator of these beautiful works of Max's art in the medium I so love. I have seen very many pieces that Max accomplished in his lifetime, and I know with 100% certainty that every piece of Max Erlacher's remarkable art legacy will live on for countless generations because people will always appreciate artistic beauty, and the highest quality and skillful execution of the art pieces that he created.
As with the multitude of people over his incredible lifetime of achievements that Max touched in some fashion, we will all miss him. What a life well lived!
— Mark Chamovitz
---
SYMPOSIUM 2022 REMINDER ~ SIGN UP NOW!
The Carder Steuben Glass Association is excited to be holding our 21st Annual Carder Steuben Symposium on September 8-10, 2022 in Corning, New York. The schedule of events, information on hotel accommodations, and the link to register can all be found on the CSGA website here. Anyone wishing to attend the Symposium is encouraged to register and make hotel reservations online soon. Preferred rates on rooms at two nearby hotels expire next week, so don't delay. Make your plans to attend today!
---
UPCOMING EVENTS
September 8-10, 2022 The Annual Carder Steuben Glass Association Symposium will be held at the Corning Museum of Glass in Corning, New York.
---
AUCTIONS FEATURING STEUBEN GLASS
Toomey & Co Auctioneers – August 10, 2022
Taylor & Harris – August 14, 2022